Lake Godstone ™ - Connecting Families with Nature
We held our family reunion of cousins, using the full campus for 3 generations of adults, young adults, and children (plus 3 dogs). It couldn't have been a more perfect weekend. Jim, Carol and Dom were great hosts, anything we needed was handled promptly. Between swimming, boating, fishing, the hayride, catching up, eating, and touring the property, the weekend flew by. Everyone loved the accommodations and we have already booked for next year.
The ranch was the perfect home base for all our adventures, and the lake was so refreshing. The kitchen was perfect for our needs,. The attention to detail in your property is amazing!! We loved looking for birds, we saw one new species for us, the Bell's Vireo and we also saw the green heron, who I just adore. We even caught a view of the beaver on our last night!!! So happy with your clear love and protection of the wildlife. I know we will be sharing about this place to our friends.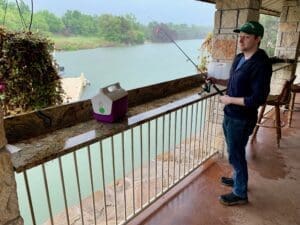 This was our 3rd stay at the beautiful Marluc Bella Vita ranch, but our 1st to stay at The Roost. We thoroughly enjoyed The Roost. We especially loved how peaceful and serene it was as it was tucked away in a quiet spot on the property. The Roost had everything we needed as a family. The huge rock fire pit was a hit with the kids, and the views of the MANY deer at the feeder every night kept us captivated. Also, the view of the night sky from the porch was breathtaking! After spending hours swimming and kayaking on Lake Godstone, The Roost provided us with a place to wind down, cook awesome food, and enjoy the gorgeous scenery.
We had our 2nd consecutive Family Reunion at the LODGE and this beautiful space is just perfect for our large families. We have old folks and young children and everyone was very happy with the accommodations. The kids LOVE LOVE LOVE the water slide and the adults enjoyed the lake as well. Our kids fished off of the dock and caught all kinds of fish and had a blast!! They are all back in the lake for the next fishermen. We have already booked our stay for next summer!!! See you all then!! 5 stars!!!

Carol and Dom went above and beyond to ensure our stay was comfortable. The cabin was cozy, cool, and peaceful. The ranch itself is amazing - would like to come back to bird watch and relax again some day. Highly recommend!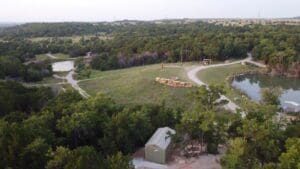 The cabin we got was small, but perfect for my husband and I! We had a bathroom and a kitchenette stocked with utensils, microwave, coffee machine, and other stuff. We rented the peddle boat and that was AWESOME. The little lake is very calm and there's TONS of fish. We took it out at night which was beautiful under the moon. Then we used the showers which were in great condition. Honestly this was perfect for a night away. It's very secluded and you don't have other campers right next to you which is awesome. We will absolutely go again! Also when we first got there, Dom and Carol greeted us, then took us on a tour of the 188 acres and honestly it was incredible. There's just a lot to do, and I was very impressed. Side note: the cabin DOES have AC which was a must for me, and it works very well. At night we actually got a little cold. (I'm writing this as it was 107° when we went so you know it was working well!)
I stayed at the Panorama site, very wide open spot, easy to back RV into the site. I went camping mid July, not going to lie it was very hot. I think heat index was 114 degrees. Carol and Dom, park managers were extremely nice, greeted me and gave me a tour on their ATV. I took my own kayak and went fishing. I was able to catch some bass even in the extreme heat which impressed me. Absolutely, loved the little lake, so beautiful. If you are looking for a quiet, relaxing place to camp and fish away from the crowds, then Lake Godstone is the place. I will return hopefully in fall, I would like to checkout the hiking trails.

If u have a large group this is the place u need. Swimming, kayaking, paddle boats, fuse ball, huge very clean restrooms.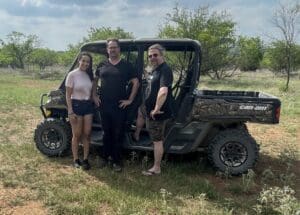 10 out of 10 Stars!! Would definitely stay here again!! Even on the 4th of July weekend - We felt like had the whole lake to ourselves! Fish were biting, campsites were very well maintained - electrical hook up and water. The shower house was great - very clean! Kayak/canoe rentals were priced phenomenally. Easy to find, site's are well marked. Jim, as well as Carol and Dom (the managers) we so friendly and accommodating. We will definitely be back!!
Right from the start you could tell Mr Jim put a lot of thought & love into his layout of the beautiful ranch. This has to be one of the most family friendly places we ever stayed. We are already going back 2nd week in Aug to take our grandsons. They have everything you need, with the new convenience store they have opened (bait, ice, drinks, snacks & more. It makes it so much nicer when you're out in the middle of nowhere. This is forever our go to place. For Mr Jim's host Dom & Carol he has a true blessing with them. Can't wait for Unio night you two. See y'all soon❤️
We had a great experience for our family reunion at the lodge. The whole family was able to enjoy the lake from youngest to oldest. The fishing was great and we had a blast swimming, kayaking and using the peddle boat.
I met family from Texas and was nervous about staying alone in a cabin. Never did I have reason for concern. Dom and Carol were extremely supportive in every way. They took me for a tour and answered all questions and concerns. We all had fun hiking, swimming and playing basketball and soccer. We will definitely return and recommend this beautiful facility.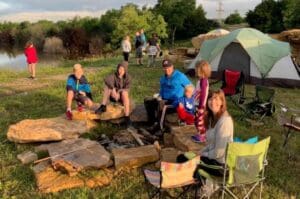 This place is absolutely wonderful!! The fishing is great, there is so much to see and do!! This hosts and owner are extremely nice and helpful. We will definitely be back! Highly recommend!!!
My family and I loved camping here, the host came and personally introduced themselves. They also gave my husband and son a tour of the campsite. My dogs were able to enjoy themselves and take a dip in the lake. Definitely coming back for more trips. Oh also restrooms and showers were clean!

My family had a great time and will be making it an annual vacation.

We had the best time. It was a quick getaway for my wife and I and we loved it. Can't wait to go again.
We had our annual Cousin's Reunion at the Lodge—what a wonderful experience we had. The facilities were above what we expected. Dom and Carol were amazing as the caretakers and made sure everything was in order for our trip to be perfect. All of the amenities were fantastic, and the little's were thoroughly entertained by all of the activities. We will definitely be back.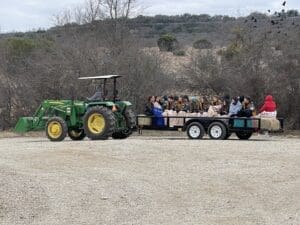 Awesome place for a family reunion. We would definitely rent again.
My wife, brother and I stayed in the roost. We got back home and told the family about this great place we found. We book the Lodge as a family getaway for Father's Day! We arrived the Lodge was very well cleaned and amazing. 4 rooms on the first floor with a queen bottom bunk and a full for the top, also another full size bunk bed. The 2nd floor is bunk beds and single beds. 35 beds total! We had a small group of 24 family members including kids. There was plenty of space. There is also a full size kitchen with 2 refrigerators, 2 tables, 2 stoves ovens. porch overlooking the lake, amazing hangout spot for the family for coffee. Access to your own dock and canoe. We had a great time fishing! We caught several good size channel Catfish, bluegill, and bass.

My son and I had a great time at Lake Godstone. It was easy to find and the property was gorgeous and peaceful, and that's exactly what I came for. Our cabin was nice ( kinda small) but had everything we needed. Dom and Carol met us at our Cabin and gave us a ride around and showed us where things were. They were always just a call away for anything we needed and we're very kind. I had trouble getting my fire going because it was my first try so a ranch manager named Rick was kind enough to to build it and showed me so I knew how to do it myself the next night. We enjoyed paddle boating the most and swimming in the lake was nice too. It was so quiet all we heard were the bugs and birds. I would have liked to see some wildlife but with my son's needs, I wasn't able to sit and wait for them to show up. Overall it was an amazing trip that I didn't want to end. I'm grateful for the experience and hope to come back again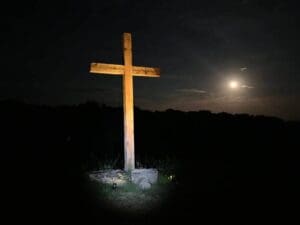 Cute little cabin surrounded by a beautiful lake and lots of trails to explore.
Wonderful House! 4 separate bedrooms downstairs with a queen and three twins in each room. 2 bathrooms downstairs-men and women's restroom downstairs. The kitchen has two of everything! Two sinks, two refrigerators, two ovens! that is fantastic absolute genius! The upstairs has one bathroom. It's one giant bedroom I believe there were two queens and the rest were twins but I believe it sleeps 22 people one giant room! it was wonderful it was well equipped for an infant and toddler very secure. The fishing was awesome, swimming was awesome, we brought the boat and meant to go to the lake but we didn't we just stayed at the house. On the last day we found an outdoor bathroom we didn't know was there and that's awesome too. Outdoor refrigerator for drinks so the kids don't have to come inside when they're thirsty. Nice place. The grandkids didn't wanna leave. Date of arrival -
Inspiration is a wonderful facility. Lots to see and do. Grandkids loved the loft beds. Has everything you need for a delightful stay. Staff is warm and caring. Stunning views of the valley. Great sunrises. Very quiet and peaceful. Kayaking, paddle boats and lily pads are available to rent and use. No brainer to stay here again and again.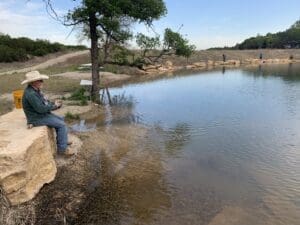 Wonderful House! 4 separate bedrooms downstairs with a queen and three twins in each room. 2 bathrooms downstairs-men and women's restroom downstairs. The kitchen has two of everything! Two sinks, two refrigerators, two ovens! that is fantastic absolute genius! The upstairs has one bathroom. It's one giant bedroom I believe there were two queens and the rest were twins but I believe it sleeps 22 people one giant room! it was wonderful it was well equipped for an infant and toddler very secure. The fishing was awesome, swimming was awesome, we brought the boat and meant to go to the lake but we didn't we just stayed at the house. On the last day we found an outdoor bathroom we didn't know was there and that's awesome too. Outdoor refrigerator for drinks so the kids don't have to come inside when they're thirsty. Nice place. The grandkids didn't wanna leave. Date of arrival -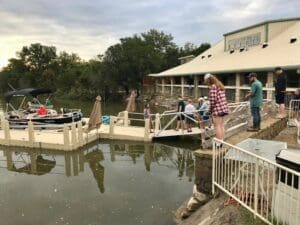 Mr James' property was a calm retreat, away from the hustle and bustle of cities and daily life. A bubbling pond below wafts music of water upwards, and the air is filled with bird song and breeze. Mr James' attention to detail is imprinted through the land, from miles of walking and UTV trails, to rock fire pits, pretty lantern lights to light each camp site. There are endless nooks and solitary retreats tucked away, perfect for reflection, conversation or reading. The lakes and ponds, walking trails and beautiful sites beckon so winsomely, you'll find yourself meandering for hours outside exploring the wild and native land of Marluc Ranch.
This was an amazing campground. Options from primitive camping all the way up to air conditioned cabins. The camp hosts are amazing!!! We rented a paddle boat and caught a few fish, the golf cart for us was mandatory because it was just too hot. We will be back in the cooler months. The grounds are beautiful but if it hadn't been for Dom and Carol we would have been lost.
We had a great time! Perfect place to conduct a little business and a lot of fishing. Host's and owner were quick to answer questions or provide anything we needed to make it a successful weekend. We'll return for another!
We had a wonderful family reunion at Marluc, it was the perfect location for a group. There was lots to do but also quiet and removed so that the family had meaningful time interacting. The deep front porch at the lodge was outstanding to simply sit around and catch up with each other. The place has modern amenities, air conditioning, good beds, a large tv for a special football game with all the family rooting for the same team, and a large kitchen that made meal prep a social event. The management had thought of so many small things that made the stay comfortable. We loved Inspiration Cabin. Each morning we would make coffee and sit out on the porch and watch the sunrise. The cabin sits up on a hill that gave us a beautiful view, a serene and thoughtful start to the day.
I cannot recommend this amazing retreat center enough!! We had the best Stewart Family Reunion here and it was incredible. We loved cooking and dining together in the spacious well-stocked kitchen. The rooms were comfy with a great cool temperature. We loved laughing as we shared so many memories and stories together on the great porch overlooking the lake. We went swimming, fishing, kayaking, paddle boating and canoeing and loved every minute of it! We went hiking along beautiful well planned trails, we went on a hayride, roasted marshmallows for smores around the fire pit and told even more stories under the incredible starry night. We so appreciate Jim Attrell and his extensive planning of each detail to ensure his guests are safe and so well taken care of! Thank you!!
The Texas High Plains and the landscape are beautiful and the rolling hills around the retreat center are amazing. The sun sets are so vibrant and fun to watch after a busy day exploring the grounds. We stayed in the main lodge and the attached kitchen was perfect for cooking for 30 people. If you are lucky enough to be there while the owner Jim is on site, you can ask for a tour of the solar systems and the water conservation systems.
We held our cousin family reunion at the Ranch and had a wonderful time! 3 generations - 3 days - 30 people and never a dull moment for anyone; plenty to do for every age group. The accommodations range from campgrounds, pads for campers, cabins and a lodge that can handle larger groups. The entire property is very well maintained and there are property managers, who are super helpful and friendly, living on the property just in case you need any help. For reunions or large gatherings, it's an outstanding arrangement: great accommodations, plenty of activities, wildlife in natural settings, fishing and swim lakes, fire pits and more. Every detail has been well planned.
My husband, myself and our lab stayed here for an extended weekend. We absolutely loved it. You are secluded, tucked in the woods, have access to a huge firepit (with a cord of wood at site - $1 per log used). The camper is small but it fit our needs. It was still 97 - 99 degrees during the day so heading inside to AC was a nice break now and then. Bathroom with shower - a few towels and washcloths provided. Kitchen had everything you need except an oven which we didn't miss. Be mindful that the coffee maker is a Keurig, not drip. But they sell Keurig cups at their store on the ranch if you forget. Small fridge and microwave. The bed was plenty big for us and comfy enough for a camping weekend. Linens were also provided. The grounds are awesome. We explored the lake, ponds and the walking trails. Dom and Carol that live on site were awesome hosts making sure we had what we needed and giving us 2 tours around the entire ranch. Jim was also very attentive to every question. The ranch also has plenty of cabins, as well as tent and RV sites. We fished a lot and caught about 20 fish during our stay. It was a blast and we can't wait to return!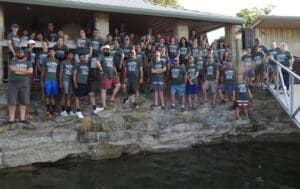 I brought 75+ people to Lake Godstone spread from the dorm through the campground. It was a great get together from the first moment to the last. We are able to have community meals at the large kitchen area, and the kids were entertained just being kids. There was plenty to do: fish, kayak/canoe, swim and hike. This was not our first trip here, and I hope it won't be our last. I highly recommend!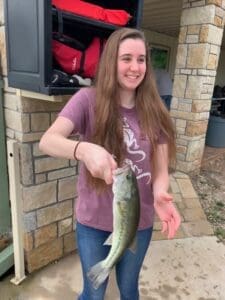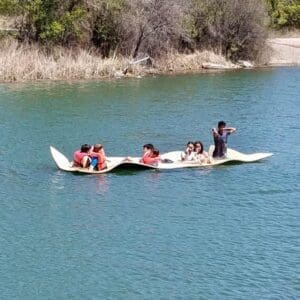 Great place to relax and get away from daily routine. Nice, quiet nights in true Texas wilderness. Panorama RV camp site had a nice view and is waling distance from the lake. Jim, Dom and Carol are really helpful and will take care of you.
Everyone there was great! We pulled in late and they met us at the gate and took us to our sight. We were tent camping and the sites are great. Really cool fire pits! Morning coffee conversation led to my job in the Military and George Strait. We got a tour of the ranch and it's really beautiful. We spent an afternoon swimming and the evening fishing. The 2nd night was a terrible thunderstorm and we had coffee waiting on us at the office in the morning. We pulled out early only because of the rain, but would definitely come back. Loved being surrounded by Bible verses and genuine people. Thanks for a great stay and pleasant company!
Had a wonderful time during my stay. The staff were incredibly kind and helpful. The Reflection Cabin had a beautiful view, comfortable bed, privacy, and was extremely clean and well constructed. Lots of animals, nature, and modern conveniences at the end of a beautiful drive.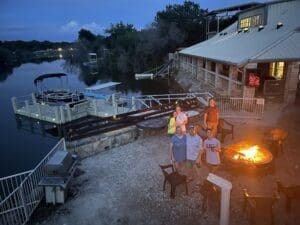 What a great weekend we spent at Lake Godstone! Jim was so accommodating from the very beginning, and the site managers were so welcoming and servicial; they took the time to stop by and introduce themselves and even gave us a tour of the land! We will most certainly be returning and plan to share our experience with everyone we know!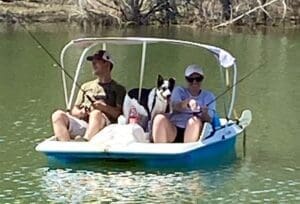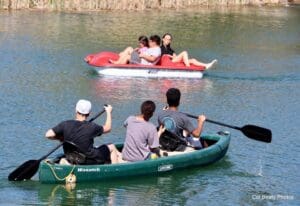 We had stayed as a family several times and enjoyed every moment, every season. We were able to secure the entire property for our Church Retreat which allowed full use of all facilities. Each separate tent camping, RV spot, cabin, guest houses are fully equipped and the Lodge served as our main gathering place for each meal. There was plenty to do with all the trails to walk and ride, solitary spots for quiet reflection, sports field for outdoor games and the lake for swimming, rafting and GREAT fishing. The Lodge porch and fire ring were ideal for conversations, fellowship and evening singing. The hosts are there when you need them, but not overbearing. Highly recommend Lake Godstone either for a family outing, or for a large group event. We've already booked next year's weekend.
Our time at Lake Godstone was absolutely magical. The property is magnificent, very well-maintained, and super serene. The views were stunning, the cabin & showers new and clean, and our hosts kind and gracious. It was perfect!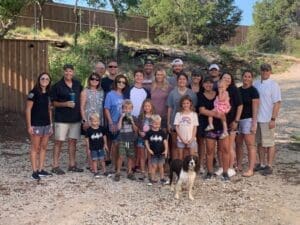 This was a fantastic experience! My wife, 96 year old father and I had a very comfortable stay in the Guest Home. In addition it was the gathering place for the members of our Emmaus Reunion Group and their wives who stayed at 4 other locations on the campus. The 12 of us had meals together in the Guest Home and had plenty of room to fellowship. Hope to make this an annual event! You want rest? It is here! You want scenery? It is here! You just want to be closer to God? He is here too!
"A Gem of A Find" We thoroughly enjoyed our stay at the Field House. It filled our needs perfectly, and it's plenty room for 4. We were in awe of the sunset view through the front windows, even sitting comfortably inside. We also love the beautiful epoxy concrete floor. We'll definitely stay here again, and our grand-daughter will have so much fun playing in the fields. Thank You!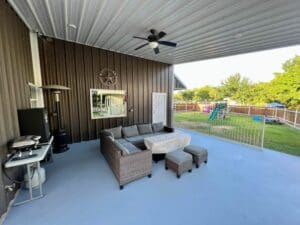 Inspiration Cabin is wonderful! Perched on the too of a hill, the cabin has a beautiful view of the surrounding landscape. The cabin is easy to get to (even after dark), following the well-marked roads. It was so peaceful, sitting outside in the morning, sipping our coffee and listening to the birds greet the new day. I highly recommend Inspiration Cabin.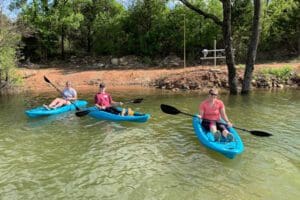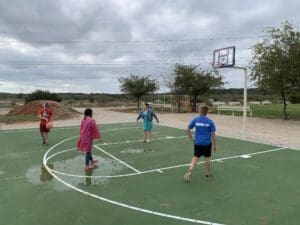 What an amazing place you've got out here. We are grateful to have the opportunity to spend some time at this gorgeous oasis! You've done a remarkable job building this place and the attention to detail is what makes this place stand apart. You are a blessed man to have such a heavenly piece of gods green earth. Thank you for sharing this place with us !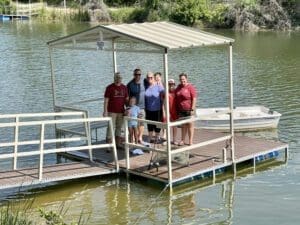 We have been to Marluc Bella Vita Ranch twice for Women's Retreats and both times have been fantastic. Comfortable bedding and sleeping arrangements, amazing covered porch, nice group spaces. We also enjoyed the many hiking trails, canoes, and kayaks. Will go there again!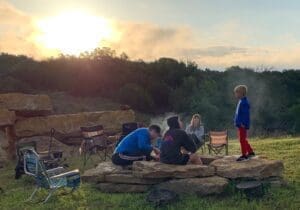 We had our family reunion at the Lodge and it is just the perfect spot for a great weekend! Lake is clean for swimming and canoeing/kayaking....our kids loved the slide and stayed in the water most of the day. They also caught some fish off the dock. The facilities are very clean and the kitchen is well stocked. The trails were fun to explore. Nature at its best. This lodge is perfect for large groups or families. We will be returning!!!!
The Experience was spectacular. From deer sprinting by at full gallop to peaceful, quiet escape, MARLUC has it all. EVERYTHING is CLEAN! EVERYTHING Works! Every amenity, every attraction, every facility, every experience is SECOND TO NONE! The camp itself is a marvel of environmental genius, art, and engineering. You can experience everything from baiting a hook and catching a lunker (you can't help but catch fish), to literally, the secrets of the cosmos (with Marluc's computer aimed telescope). It is impossible to take it all in. My biggest problem was deciding what to do first! Marluc Bella Vista Ranch is THE BEST KEPT SECRET IN TEXAS. Sincerely, I would schedule your visit now. Once the word gets out, getting a reservation will be harder than having to go home was for me. I mean it.
The property was beautiful. It was so peaceful. The property managers were very friendly and helpful. There's so much to see and do that my only regret is not having more time at the ranch. Will definitely be back soon.
We attended a great family reunion at which the lodge was the central gathering place for 30 of us. We stayed at the Serenity RV, and serene it was. Remote, yet close enough to the lodge so as to be a nice walk. A nice paved 'gazebo' with a grill. Serenity was exceptionally clean. We enjoyed the night sounds under the RV awning before we turned in for a night's sleep.
We had to cut our trip short because I got a little sick, but that had nothing to do with the land! It was absolutely beautiful and very easy to navigate. My dog loved every minute of it and is absolutely tired out from her adventure, it is very dog friendly and I encourage you to bring your furry friend if you are on the fence! Dom and Carol were so lovely! We were going to go on a tour of the property when I got sick. Dom and Carol helped me out with a sprite and a couple of their own personal things, it was very sweet. Unfortunately we did not get to spend both night there, but we had an absolute blast the time we were there, and we will be back!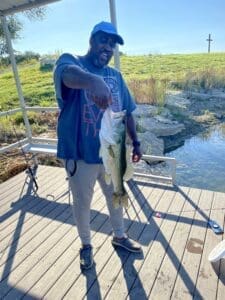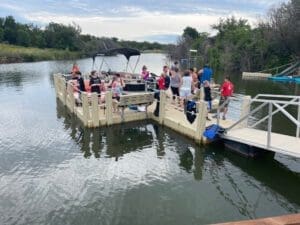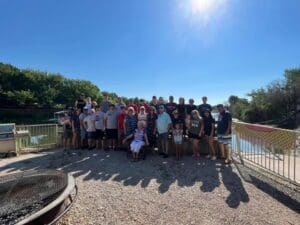 We were immediately greeted by the property hosts who were very kind and gave us a free tour of the property. The Reflection Cabin was perfectly appointed so that you still get the camping feeling with a few added comforts. My son and I had a really great time at the ranch and would recommend trying out the Reflection Cabin or one of the other cabins or tent camp sites.
Stayed in the camper. Loved the secluded feel of it. Lots of trails to hike too. Look forward to revisiting and staying in a primitive cabin next time. Excellent hosts. Quick response to any issues very informative Ian's super friendly.
Setting, hospitality, and accommodations are all first class. A perfect place to retreat or gather with family and friends! We are repeat guests and will keep coming back every opportunity we get.
Great place to relax and unwind to a peaceful oasis ..literally. James the owner has definitely put a lot of hard work and dedication to make this place an incredible blessing of a getaway. There are many ponds throughout the property and a nice medium sized lake to swim, fish and kayak in. Dom , was very helpful and keeps the property incredibly maintained . You won't be disappointed.
It was amazing. I was on a business trip and did not want to stay in the city hotels. I stayed in the resurrection cabin, lot a fire, cooked steaks and chicken. Was very quite, clean and the on site staff Dom and his wife were very hospitable.
You really have a beautiful property here and I definitely feel the presence of God all around me as I know he walks with me everyday. Such a calming and peaceful place.
Unique spot in the middle of Northwest Texas! What he did here is not only for us today but for generations to come! My wife and I had a blast and was so fantastic that we decided to staying another night. The host is very responsive and attention to detail to make sure you are always happy and Dom is a great guy, he manages the property and always will be taking care of you and your family. Several options to choose where to stay, from primitive campsites to amazing cabins or tiny houses! We will be back soon!
It's so fantastic that we want to come back every weekend! What a nice place to be in peace close to DFW! The host is great and all his crew outstanding! We will be back soon.
We really enjoy our stay at the Pondside cabin. It was perfect for relaxing and fishing. We were cozy and had everything we needed for an enjoyable getaway experience. The hosts were amazing! The campgrounds were very clean. We felt very comfortable. We picked the perfect time! Stars were incredible, weather was sublime, caught a bunch of fish, and loved kayaking on the lake. I love the various options of camping. Whether it's a couple for a romantic weekend or a large group, they have it! Definitely recommend!
Great few days in the cabin! Hopefully I can take a few more days off and come back!
A wonderful place for a small group. Clean, comfortable, fully equipped. We had a blast!! Thank you to Ranch Manager who escorted us around the retreat & answered all our questions.
Fantastic place. Has everything you need for a relaxing stay. Huge comfortable beds, full kitchen and bathroom. Spotlessly clean. Super patio area with gas fire pit and new Blackstone grill. Perfect for families as it has 2 bunk beds. Great hosts. Will be back!
The Lodge was the BEST place to host our kids, grandkids, nieces, and nephews for a family get together on Thanksgiving. The Lodge was spacious for our 20+ guests and there was every amenity available. Everyone loved it! We can never thank you enough for creating a beautiful place for making beautiful memories.
I cannot say enough good words to describe our camping experience. We had the best time we had the best time. Everything is absolutely beautiful. Dom and Carol were so helpful. Dom even came by each morning to check on us. The bathrooms and showers are private and clean. The fishing was great and we enjoyed the paddle boat We had so much fun we even stayed an extra day. We even not allow the kids to take any electronic devices and they were not board for a minute. I would recommend these campgrounds to anyone and we are definitely going back Thanks for a great time.
Very thoughtfully laid out so that each campsite has some privacy. Hosts were terrific and very helpful with my booking and once I got there. I wished I'd booked a longer stay so. I could have enjoyed the amenities.
It was fantastic! We stayed in our RV at the Refuge campsite. Beautiful, clean, flat, great picnic table, and the best fire ring ever. We will be back!
I have always wanted an RV. This was a great way to try one out. Best of all, I didn't have to haul it or set it up and the campsite was phenomenal! This RV is set up at a retreat center, so there is plenty to do if wanted. I was looking more for time in nature, a campfire and beautiful views and I found it! As a female traveling by myself I felt completely at ease. Also there was a thunderstorm one of the nights and I felt very safe in the RV.
Man, what an amazing place to stay! There are a lot of cabins to choose from on his website. My wife, little brother, and I stayed at the Roost. It's a little farther from the other cabins and lake but worth the distance. We had a great time fishing! Together, we probably caught 35ish fish. we caught three 18-inch channel catfish, two 16in channel catfish, and 15 or so 12 inch catfish. We also caught crappie, blue gill. Not including awesome walking trails, basketball court, and sand volleyball beach. Overall will definitely stay again. As a family we are looking at renting the lodge next.
Our stay at Reflection cabin has been relaxing and fun. It's a simple cabin but with some added bonuses like a toilet, a sink, a small microwave, a small hot plate, a small key rig, a small toaster and a wall A/C unit. This is clamping at its best and it is exactly what we were looking for. The cabin came furnished with a table, chair, a bed with sheets and pillows, two towels, and the small kitchenette included utensils, a pot, plates and glasses. Even spices for cooking! We brought our own paper towel roll. The room is perfect for two people. We brought our small dogs and it worked out perfectly. Outside the cabin you have a welcome mat, and a cute porch where we put our camping chairs. It comes with a picnic table, a grill and a place to burn your fire logs. The caretakers welcomed us and gave us a tour of the property, showed us the ponds and explained to us where the showers were, etc. they brought us firewood to make a fire. The cabins and camping areas are far apart so you get a complete sense of peace. The only sounds come from the birds and the wind rustling the leaves. Because all the windows in the cabin come with screens, we could sleep with our windows open and it was cool and peaceful. We came to fish and relax and both were accomplished. We fished quite a bit of catfish and released it. We loved our stay and will definitely recommend it to friends and family.
THANK YOU to Jim, Carol & Dom for everything you did to make our Christian Outdoor Ministry Cast & Blast a success! The ranch is GORGEOUS, our accommodations were great, and we'll definitely be back. All the best.
Very nice ranch. The water in the lake is crystal clear! We could watch fish eat or bait 5-8 feet down. My son caught some very nice bluegill, a bass and a 5 pound catfish. If you're looking for a quiet getaway with fun activities, check out this ranch!
The owners did a great job of hosting. They let us pick from the campsites available since we were the only ones there at the time. They were very attentive but also didn't hover over our campsite. Would definitely recommend going here.
We all really enjoyed our time with you! The surroundings are beautiful, the hosts are gracious and the accommodations are wonderful! April 2023
This was our 3rd church family retreat at Lake Godstone. Each year the attendance has grown, we had 42 adults and 25 children sign up this year. This year we reserved the entire campus, it worked out perfectly. Our days were filled with hiking, fishing, canoeing, swimming and enjoying the overall beauty of the ranch. We had an afternoon at the gun range for the adults while the kids were kept busy doing crafts in the lodge classroom. The nights were spent around the campfire on the dam after enjoying a hay ride through the trails. We finished it off with our church service Sunday morning. To make it easy we divide the meals amongst the families, the lodge was perfect for fixing and serving the food. Dom and Carol are excellent hosts and always there when we need them. And the communications from Jim were excellent. We've already reserved the campus for next year's event, and we are looking forward to returning again.
We were able to stay in the three bedroom guesthouse, it had everything we needed. Andwith the baby it was perfect to have grandma and grandpa stay with us and have the other room for our brother and sister. Perfect, perfect, perfect.
Another G R E A T retreat and as always the beautiful setting adds to the enJOYment and relaxation. Sunrises and sunsets show God's handiwork. The improvements to Reflection Cabin were great, very comfortable, the view stunning, and the kitchen very well appointed. I LOVE the new bathrooms and showers near the "tent zone", AND the TREEHOUSE!!!! Just a Glorious place to retreat to and away from the fast paced world we. live in. Thank you Jim for creating such a wonderful getaway spot and for letting us enjoy it.
If you need a reset button from all the drama going on in the world, this is the place. Everyone we met were very nice people. The Ranch was very peaceful and beautiful. Very professionally owned and operated. Safety: You never have to worry about being safe. The whole ranch is fenced in and gates locked.
Our family of 5 were part of a 90th birthday celebration at the ranch the weekend of April 28th. We stayed in The Guest House, and it's plenty of room for everyone. The unit came fully equipped, just right across from The Main Lodge, where our party hosts were. We thoroughly enjoyed the cookout, the mingling with friends and relatives. The kids specially enjoyed the Smores over the fire pit, the Hayride adventure around the property, and definitely, the catching of fish. The weather was super nice the whole time, and everyone had lots of laughters for this memorable, meaningful time. A big shout-out to Dom and Carol for taking care of the guests. We will definitely be back next year, if not sooner!
Thank you so much for having us. Beautiful location, great facilities, and Dom and Carol, the ranch hosts, are amazing. God was glorified and we can't wait to book for next year. Praise God for all the beauty and fun we experienced.
The Lodge was the perfect venue for our family reunion. There were many options for activities and it was a serene and beautiful area! We were a little concerned about being so close to the lake with little ones but there were well-planned gates and fences so we felt very comfortable with it. The kids (toddler to teens) loved the bunk room! Everyone wants to return!
From the property owner to the property managers, you will not find a more courteous team that goes out of their way to make your stay enjoyable. Good fishing on site as well as a long list of activities for both adults and kids of all ages.